At Weave Web, we get a real kick out of helping food and wine businesses set themselves up online. For a start, we love food and wine! But we also know that selling things online that might be perishable or limited in supply presents a lot of challenges. We're good at solving them.
Case study: Bringing the personalised experience online
Located in Melbourne's legendary Queen Victoria Market, Coffea Coffee is a café and fresh coffee roaster with a friendly, bustling atmosphere. Popular with a loyal band of locals as well as visitors from interstate and overseas, Coffea is known for personalised service - all the way to creating a special blend for each customer, depending on their tastes. Coffea wanted to bring this friendly, personalised approach to their new website.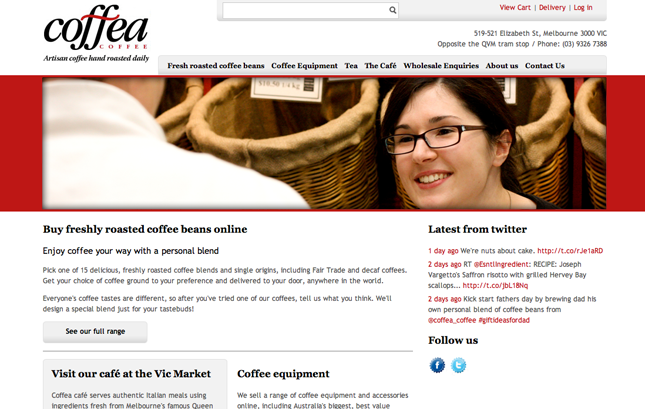 There's a lot of competition in online coffee sales. But Weave Web created a site built around a key audience for Coffea: people from outside Melbourne who have visited the café during a holiday. By using plain language rather than specialist coffee vocubulary, and giving them the option to create their own personalised blend rather than relying on a standard range, the site recreates the down-to-earth, hospitable approach of the Vic Market location.
The results have been terrific. Excellent SEO results for key search phrases have pushed sales well beyond expectations. And with an increased use of social media and other marketing activities, Coffea is gaining even more loyal customers. They're now ready to go international. The sky's the limit!